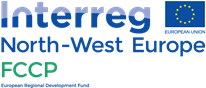 The Fuel Cell Cargo Pedelec project (FCCP) may represent a relevant element in the run for an emission free last mile delivery – not only within distribution logistics but also amongst other commercial applications and private logistics (e.g. bringing children to child care, to school, or doing other activities).
The FCCP Project produces emission free cargo bikes, with sufficient range and constant performance through all seasons providing significant potential to reduce emissions and congestions in cities and thus to improve livability.
This project focusses on the replacement of combustion engine vehicles in urban freight transport by emission free FCCPs and thus on the reduction of CO2- and noise emissions as well as traffic jams in European cities.
The project develops cargo bikes, where the power drain is driven by innovative fuel cells. These FCCPs are then used in different cities for last mile delivery going along with pre- and ongoing studies how these FCCPs can be used most efficiently. During this project, possibilities are specified how to use FCCPs in a sustainable way.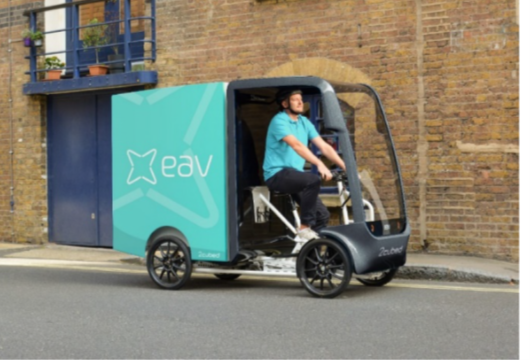 Figure: the EAV Cargo bike in Aberdeen
For efficient exploitation of this potential, this project builds on an innovative logistic concept, tailored for the performance characteristic of FCCPs and the requirements of today's urban freight transport (WP T1), latest fuel cell technology (WP T2), as well as intense involvement of cities to foster and implementing FCCPs (WP T3). In line with this, one crucial output of this project is a transnational strategic concept concerned with the best integration of emission free FCCPs in logistic delivery chains, including innovative technology and sustainable urban development. This project will facilitate the multiplication of emission free FCCPs, as it provides relevant and replicable information to cities and the transport sector (WP C) to stay abreast of the fundamental changes in the transport sector, reducing CO2 emissions in European cities.
The education plan
The educational plan focuses on the design of (modular) education for the implementation of Fuel Cell Cargo Pedelecs (FCCP) for Zero Emission Urban Logistics. It consists of four modules: (1) Generic urban logistics, (2) Specific FCCP logistics, (3) Fuel Cell technology in vehicles and (4) Fuel Cell E-cargo pedelecs technology
This module provides presents knowledge and skills related to the sustainable organizing Transport in and around the city: About the last mile supply through a hub, to Organizing, how to design the Infrastructure, Logistic Processes in to Focus which Transport Modalities in to use. This all putting Sustainable Solutions central. It involves both the organize, manage and the Control.
This module adds specific knowledge for the logistics of FCCP's with respect to the logistics, infrastructure and the implementation in  city environment (safety, public acceptance, fueling infrastructure)
 (3) Fuel Cell technology in vehicles
This module focuses on knowledge development of physical properties & safety and understanding the added value of hydrogen technology in the sustainable mobility
The module explains of  the use of hydrogen technology in vehicles concerning system layout , installation, monitoring, maintenance and repair.
(4) Fuel Cell E-cargo pedelecs technology
This module focuses on knowledge development on the powertrain of electric vehicles concerning system layout , installation, monitoring, maintenance and repair.
The workshops
Links:
Webinar FCCP 16 December 2021
City documents on  Hydrogen  mobility
Other projects

Safe Last-mile Delivery (LMD) 
Green and safety skills for workers in bike based urban last mile deliveries
Ulaads
ULaaDS will develop and trial logistics solutions based on the principles of the sharing economy. Through its trials, ULaaDS will re-think the value of 'ownership' and 'use' in the urban logistics sector, testing shared, connected and zero-emission solutions for cost-effective delivery.

Events